Wilderness Island Yoga Retreat
Yoga / Adventure / Private Island / Bush Luxury
Scenic flight to and from the Island
A unique getaway starting (and ending) with a scenic view of the Ningaloo Reef from the sky, arriving on a pristine private island with daily yoga classes, unforgettable bush walks, ocean and mangrove adventures, nutritious local food and plenty of relaxation! With stairs directly from the camp down to the sandy beach, you will find it easy to go exploring the unspoiled nature of Wilderness Island. Along with yoga, this retreat includes a Mindful Intention Workshop, and guided meditations, providing a deeper meaning to the experience. Suitable for all ages, families, friends and anyone seeking to disconnect and slow down.
Wilderness Island, "Where the world has paused". This incredible setting is an island paradise perfectly positioned in the secluded wilderness that makes up the eastern side of the Exmouth Gulf. The island is approximately 1.6km long, and 800m wide, and boasts sandy beaches, limestone cliffs, sand dunes, and mangroves. And it will be all ours for the weekend!
The tropical waters host an unimaginable variety of marine life including whales, dugongs, manta rays, turtles, dolphins and is one of Australia's premier destinations. The Exmouth Gulf is a nursery for the adjacent World Heritage Listed Ningaloo Reef and home to amazing bio-diversity; Wilderness Island is in an optimal location to soak it all in.
This retreat includes:
-Scenic flight to get to and from the Island: You will be able to fly with our local company Norwest Aviation on board a Cessna 172 departing and arriving in Exmouth, enjoying an unforgettable view of the Ningaloo Reef from the sky.
-Bush Luxury Accommodation: Private secluded cabins with uninterrupted ocean views. All feature huge furnished decks for you to relax on and enjoy the serenity. Ensuite with outdoor shower and toilet, all run with freshwater. Every cabin will be shared by two people.
-Food: All meals included. Vegetarian, Vegan and Pescetarian options in a delicious, fresh and local menu.
-Daily yoga:  Vinyasa, Yin, Restorative, and Meditation classes led by Maria Jose Buzeta, owner/instructor from Exmouth's Inhala Yoga Studio, and Cassandra Pickel from Inner Power Yoga. Our second day, we will pause and connect with ourselves through an Intention Setting Workshop.
–Ocean and Island Adventures: In your free time you will be able to go for boat rides and walks around the island, sharing your time with numerous species of birds including: honeyeaters, zebra finches, galahs, corellas, and splendid fairy-wrens. White-breasted sea eagles and ospreys constantly hunt and roost around the camp.
Complementary kayaks and paddle boards will be available for your use and are the perfect way to explore the waters of the Exmouth Gulf and the mangrove system surrounding the island. Take one out to one of the coral bombies to snorkel and see a myriad of fish and sea creatures.
If fishing is your thing, you are more than welcome to bring your gear and explore around the coast. There are also chartered fishing tours available at an extra cost.
Daily program:
Day 1
11-1pm Meet at the main lounge to share a tea and check in to your cabin for the weekend.
2pm Lunch
3pm Welcome to country and guided tour through the island and surroundings and a snorkel session if the weather suits.
5pm Yin Yoga and Yoga Nidra guided by both Cass and Maria.
7pm Dinner
Day 2
Sunrise – Awakening Yoga practice by Cass
8am Breakfast
10am Boat ride through the mangroves arriving to Simpson island
12-1pm Lunch
2pm Free Time / Exploring time
5pm Yin Yoga by Maria
6pm Sunset and Dinner
Day 3
Sunrise – Awakening Yoga practice by Maria
8am Breakfast
10am Guided walk and snorkel to some secret spots around the island
12pm Lunch
2pm Sankalpa – Intention Setting workshop by Cass
4:30pm Restorative Yoga by Cass
7pm Sunset and Dinner
Day 4
Sleep in day!
8:30am Yin Yang Yoga practice by Cass and Maria
10am Breakfast
12am time to say goodbye and jump into the our scenic flight to come back to Exmouth! (time TBC)
*Schedule can be changed to suit weather
**Deposit will be refundable until 30 days prior to the start of the retreat
***If you are unable to get to our town due to any COVID-19 last minute changes less than 30 days prior to the start of the retreat, we offer the option of rescheduling to our next available date.
Upcoming retreat dates:
-April 21st – 24th, 2022
*For groups of 10 people, this retreat could be customised for you: just email us at hello@inhalayogastudio.com.au
Cassandra Pickel
Adelaide, South Australia
Founder of Inner Power Yoga
"Yoga has been my path now for around 25 years and it's changed me in ways I never expected.
When I first came to yoga I was a full on gym junkie dabbling in Tibetan Buddhism. I was also pretty angry and messed up. Then one day I read an article about Ashtanga Yoga and this teacher, Graeme Northfield, who had healed himself physically and emotionally through it. The combination of a strong physical practice and spirituality intrigued and inspired me, so when I moved to Brisbane I looked up Ashtanga classes and found that Graeme taught in my area. He was one of the first certified Ashtanga Teachers in Australia, and along with Iain Clarke whom he mentored, I began my journey into yoga and my own healing.
I practiced Ashtanga exclusively for 10 years, and it then began to evolve towards Hatha Yoga. I decided to take my Yoga Teacher Training after 18 years of practice and focus on Traditional Hatha Yoga. I completed a 500hr training with VIYETT in 2015, and have since then completed a 50hr Tantric Hatha training with The Practice Bali and are working through the ParaYoga Master Trainings studying with Yogarupa Rod Stryker. To date, I have completed a further 200hrs with more to come.
To me teaching yoga is less about the physical practice and more about the underpinning philosophy and subtler aspects of the Tradition. I'm passionate about life, in particular in leading an authentic, fulfilling and empowered life, and it is this that I wish to pass on to others. As the Tantrics say, life is a gift from the Divine and I believe we owe it to ourselves and the world to shine our light and our uniqueness.
Learn more about Cassandra and Inner Power Yoga clicking here, https://www.innerpoweryogaaustralia.com/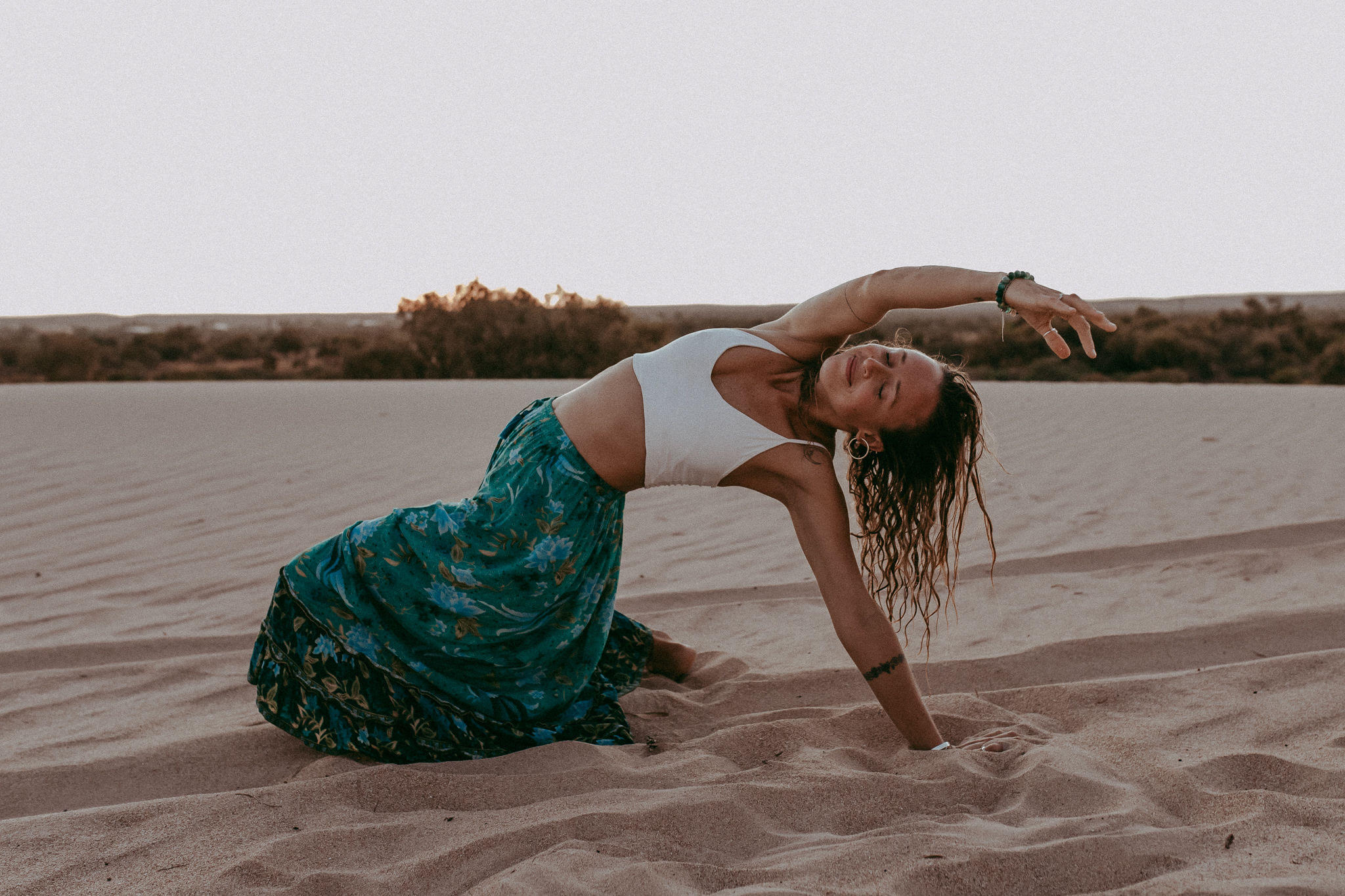 Maria Jose Buzeta
Santiago, Chile
Founder of Inhala Yoga Studio
"Yoga is a way of life, for myself as well as others. My true passion for this practice resides in sharing what it means to me; a dedicated space in our day that calls us to be present, balanced and connected. Cherishing my home, my body, accepting my flaws and embracing my positive synergy, yoga gives meaning to every step I take. Inhala Yoga Studio opened its doors to welcome equally every person in the search of calm, connection and wellness. Our retreats take Inhala outside the studio, letting you enjoy our little piece of paradise located in the heart of the Ningaloo Reef. I hope to meet and share this all with you soon"